2018 Official BEAD – Little Yellow Sulphur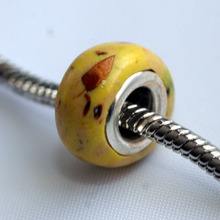 This year's limited edition, handcrafted fimo clay bead has been inspired by the Little Yellow or Little Sulpher butterfly (Eurema lisa). 
The little yellow butterfly is a sure sign of summer as it dances over a field of clover. Our little yellow bead is speckled with its typical light brown flecks. 
The bead measures approximately 5/8″ (1.6 cm) and bead core is compatible with popular charm bracelets such as Pandora or Chamilia. Each and every bead is unique due to the handcrafted design process. 
Beads are packaged individually in a small ziplock with an informational card regarding butterfly conservation.
The Association for Butterflies applies 100% of its profits from the sale of this BEAD directly to butterfly conservation projects.
Read more about applying for a mini grant from the Association for Butterflies. (link to description and application coming soon!)
Click HERE to read about BEAD, Butterfly Education and Awareness Day
Click HERE to visit our member's only store for special pricing.  You will need your username/password to enter.
If you are not a member, click HERE to visit our non-member store.
You can save 50% on our bead price, if you become an Association for Butterflies member.  Click HERE to find out why you should become a member!