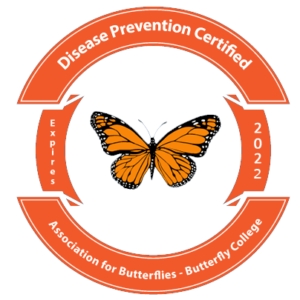 As part of our commitment to support the butterfly farming industry, Association for Butterflies is now issuing a Disease Prevention Seal to anyone who takes and passes our "Advanced Disease Prevention in Lepidoptera" course. This course is offered annually in February and taught by Edith Smith of Shady Oak Butterfly Farm in FL.  While the seal is valid for 3 years, many farmers take the four-week course each year to stay updated with any and all new disease and disease prevention information shared by pathologists throughout the course.
Advance Disease Prevention in Lepidoptera is THE MOST intensive course offered to professional butterfly farmers, taught by a butterfly farmer and tailored to specifically train butterfly breeders and enthusiasts how to recognize and prevent disease in butterflies.
Why is a disease prevention seal important?
By purchasing butterflies from farmers who display the seal on their website, you can have confidence that these farmers have completed the course, practice disease prevention through good rearing practices, and know how to keep their stock clean and healthy by recognizing signs and symptoms of unhealthy stock.  You are ordering from a knowledgeable, informed professional who understands what to watch for and can help you feel good that you are receiving healthy butterflies or caterpillars.
Read on to find out exactly how the course works, what is covered, and the criteria that must be achieved in order to obtain a Disease Seal.
Week One covers:
Farm size and disease, Basic information, What is disease?, SOPs, Journaling, Breeding stock, Eggs, Larvae Signs & symptoms.
Week Two covers:
Disease transmission, Outbreak triggers, Breeding Stock, Cleaning the lab (or rearing room), Disinfecting rearing containers/sleeves, Sanitizing eggs, Sanitizing pupae, Larval food, Sanitizing food, Instant/artificial diet, Disposal of material.
Week Three covers:
NPV, Cleaning the lab, Screening for disease, Bacteria, Bt, Fungus, Nosema, Serratia, Aspergillus niger, Toxic plants, Mechanical damage.
Week Four covers:
OE – a parasite, OE – signs and symptoms, OE – lifecycle, OE – in pupae, OE -Taping for OE, OE -How Monarchs contract OE, OE – Disinfecting eggs.
This course has over 130 pages of instructional material with technical assistance and editing by Amanda Lawrence; Pathology – Mississippi State University and Dr. Leellen Solter – Associate Professional Scientist, Insect Pathology, Illinois Natural History Survey
Each week, students receive their reading material via email in the form of a pdf PowerPoint presentation. It is full of pictures and information detailing the week's work. The students are also added to a closed Google Group to facilitate discussions and are able to ask questions about things they did not understand in the weekly material. Amanda Lawrence, Mississippi State Pathology Department, is on standby for the duration of the course to answer any questions the participants may wish to ask.
At the end of each week there is a quiz to review the material covered.  A final exam at the end of the four-week course reinforces what has been learned. Only the students who successfully complete the weekly quizzes AND the final exam with 100% correct answers are awarded the seal and a certificate of completion.